One Step Closer to Help and Hope
Need to talk? Our weekly Wednesday, 12 Noon – 12:50pm Support Meetings can help. Join us at the Bosom Buddies' office at 645 South 5th Street in Montrose – we are stronger together!
Bosom Buddies has helped more than 4,000 people affected by breast cancer with more than $1,000,000 in medical and educational financial assistance.
We need YOUR help to keep helping others!
Support the residents of Southwestern Colorado who are dealing with the devastating effects of breast cancer.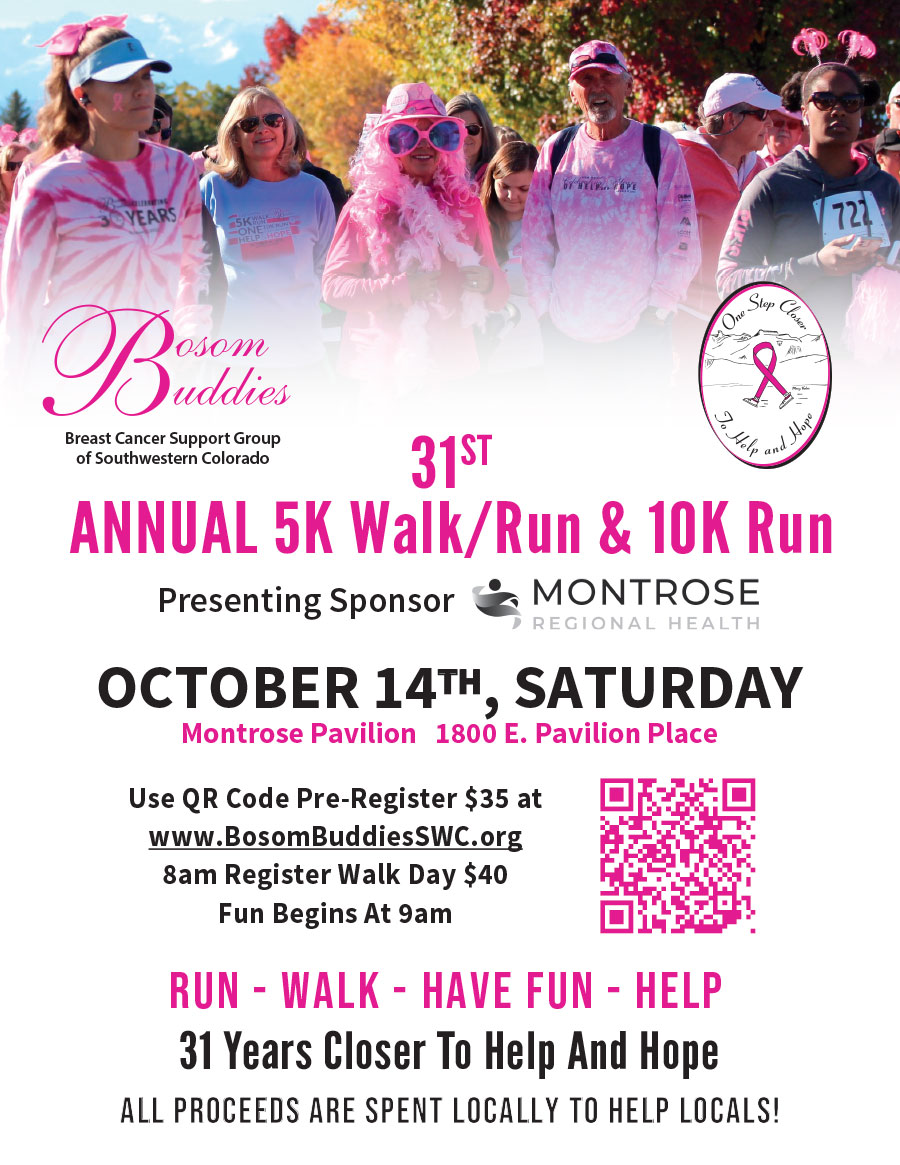 31st Annual 5K Walk/Run & 10K Run
REGISTRATIONS ARE NOW OPEN!
Saturday, October 14th
Montrose Pavilion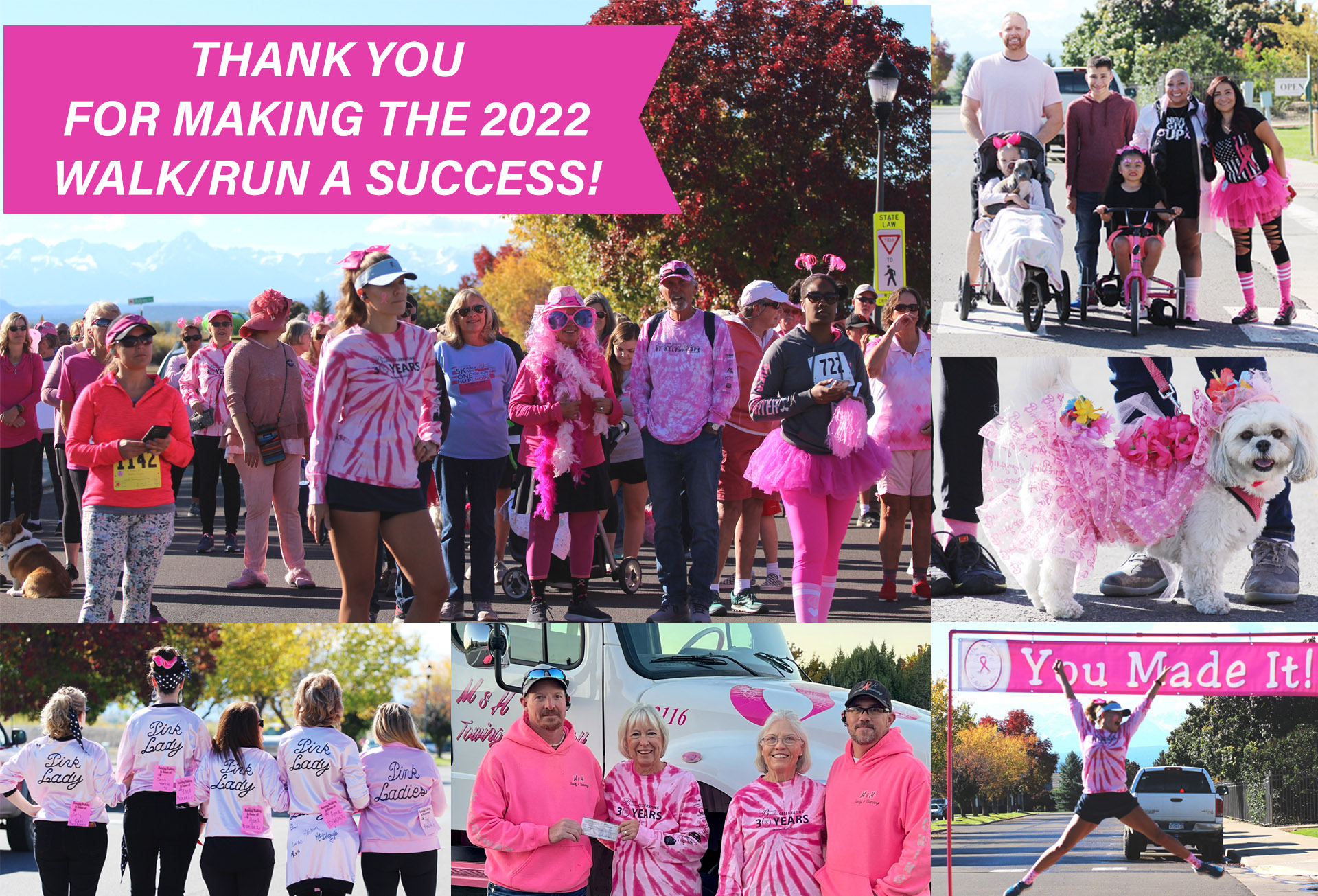 THANK YOU TO OUR 2022 WALK/RUN SPONSORS AND VOLUNTEERS!
Please support our sponsors as they support all of us
CONGRATS TO DANIEL LEAFSTRAND,
1ST PLACE WINNER, BOSOM BUDDIES
25th ANNUAL WALK/RUN T-SHIRT
DESIGN COMPETITION
We are here for you.
The Bosom Buddies Breast Cancer Support Group of Southwestern Colorado, Inc. provides emotional and financial support to those persons living in the small communities of southwestern Colorado who are affected by breast cancer disease. We are here to help.
Our support discussions offer a personal environment for you to discuss your feelings and experiences in a private and confidential manner. Whether you are newly diagnosed or a 20-year survivor, you are invited to talk with others who do understand. We are here to help you.
Financial assistance is available, to those who qualify, for mammograms, ultrasound, and continuing medical breast cancer treatment. Our educational fund also provides scholarship opportunities to survivors and to children who have a parent or guardian who has ever been diagnosed with breast cancer. We are here because we understand.
The Bosom Buddies office is located at 645 South 5th Street in Montrose and we can be reached at info@bosombuddiesswc.org. We are here for you.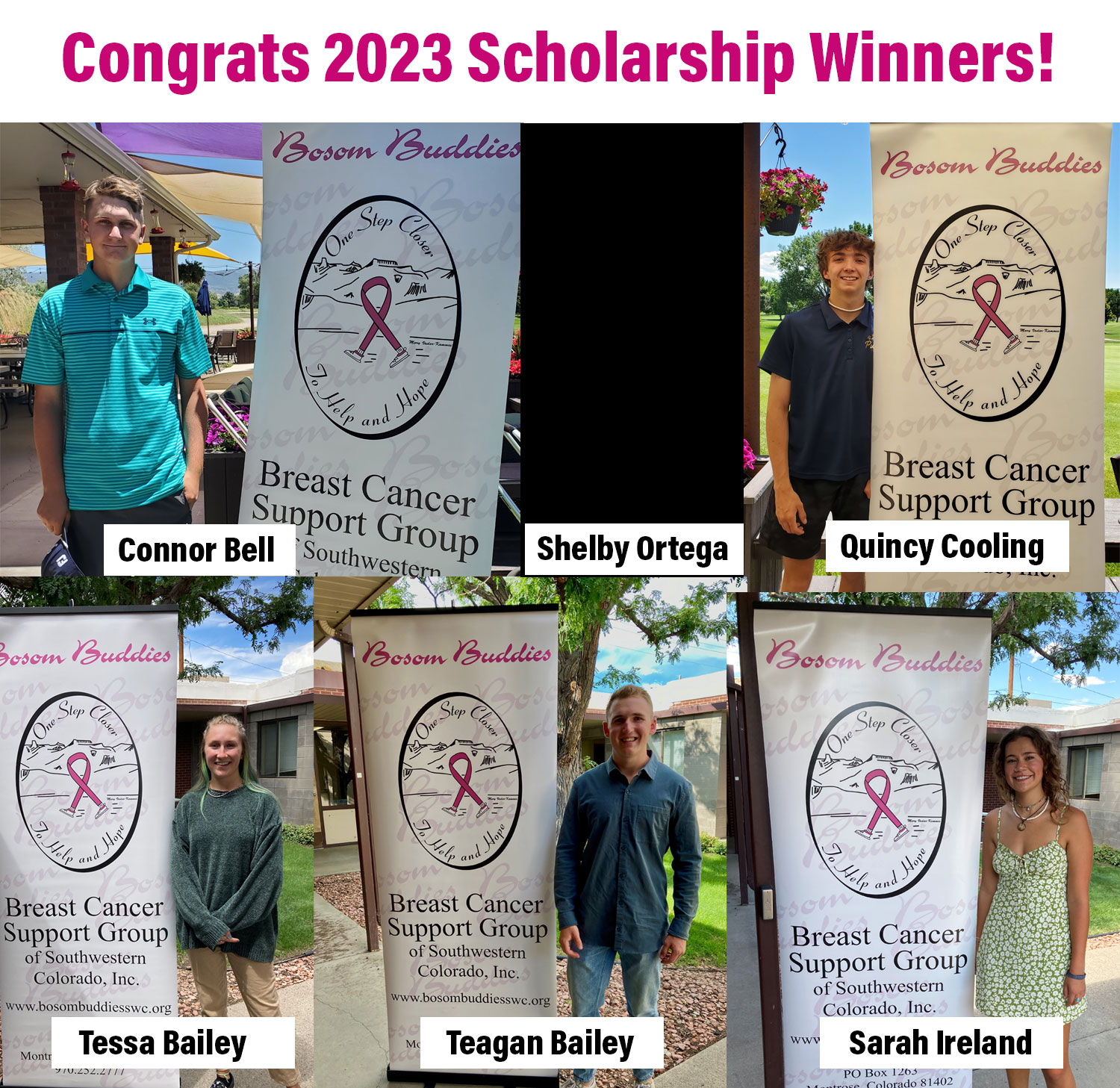 Congratulations to Bosom Buddies Breast Cancer Support Group of Southwestern Colorado 2023 Bosom Buddies scholarship recipients. First-time recipients include Connor Bell, Quincy Cooling and Shelby Ortega (not pictured) all from Montrose High School. Continuing educational scholarships were awarded to Teagan Bailey and Tessa Bailey of Montrose, and Sarah Ireland of Telluride.